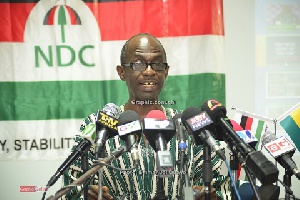 A total of 101 candidates have picked nomination forms to contest for various vacant positions in the National Democratic Congress (NDC), General Secretary of the party, Johnson Asiedu Nketia has revealed.
Out of this number, about 90 have filed their nomination forms as at the close of Friday, September 7, 2018, which was set aside as the deadline for filling the forms.

"At the time of leaving office on Friday which was not yet 5pm, 88 people have filed their forms", he noted.

Interacting with Accra-based Okay FM, Monday, September 7, 2018, Mr. Nketia further revealed that due to the advice of the Council of Elders of the party, the deadline for the submission of the forms has been extended.
According to the NDC Chief Scribe, the deadline for the submission of the nomination forms has been extended to ten (10) more working days.

The umbrella family is expected to gather at the Trade Fair Center in Accra on November 3, 2018 to elect national executives that will stir the affairs of the party for the next four years.