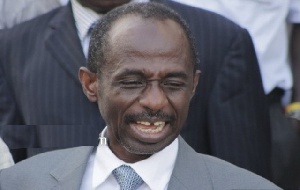 Reliable information gathered by rainbowradioonline.com has it that, General Secretary of the opposition National Democratic Congress (NDC), Johnson Asiedu Nketiah, has asked his closest contender for the chief scribe position, Koku Anyidoho to step down.
The politician from the information gathered has sent some personalities to Koku Anyidoho, the Deputy General Secretary to step down.

He has confessed to some individuals that he [Nketiah] told Koku Anyidoho to contest because he would no longer contest the race. Koku Anyidoho last week Thursday picked his nomination forms to contest as General Secretary.

The desire of Mr Anyidoho is to help the party unseat the incompetent New Patriotic Party (NPP) under the leadership of President Nana Akufo-Addo, who has failed woefully in fulfilling his campaign promises. According to him, he is not scared of any candidate who has expressed interest in contesting the position. Speaking in an interview after picking his forms last week, Mr Anyidoho said, he is looking forward to maintain party discipline.
He said, the delegates are buying into his message adding, ''the race is not about insults, it is not boxing, we are not in the race to insult anybody. I have decided to contest as General Secretary with the message of party first. The party is supreme and we must work for the party at all levels in order to rebuild it and bring it back to power in 2020.''

''Let us go back to the basics, to the spirit and soul of the NDC as it was formed in 1992 and make sure we maintain party discipline. It is about empowering the structures, maintaining party discipline, ensuring that, the party is supreme at all times and the interest of the party should be above all things.''

To him, the delegates will decide who to represent the party as General Secretary and so, ''I am not contesting anybody. I am vying for the office of General Secretary. I am not in contest with anybody, and I think that the message I have will sit well with the delegates.''