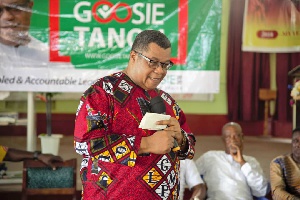 Tue, 23 Oct 2018 Source: Emmanuel Coffie
Presidential aspirant of opposition National Democratic Congress (NDC), Augustus Goosie Tanoh has urged delegates of the party to maintain an open-eye and vote for a more credible person like himself to lead the party for the 2020 polls.
According to him, the NDC is poised for victory 2020 but the party can only achieve that if a trusted candidate wins the upcoming presidential primaries elections.

Addressing separate meetings with delegates at Dodowa, Asutuare and Ningo-Prampram as part of his campaign tour to the Greater Accra, Mr. Goosie Tanoh urged delegates to "shine their eye" in choosing their next presidential candidate.

"In 2016, we did not attract floating voters, ask yourself why, he questioned. Shine your eye" Goosie Tanoh told the charged delegates at Asutuare in the Shai-Osudoku constituency.

He explained that one of the reasons that caused the NDC humiliating defeat during the 2016 elections was that the party was not attractive to floating voters.

According to him, prior to the 2016 polls, the NDC party became disintegrated and failed to attract voters who are not die-hard supporters of the party.

This position is a sharp contrast to that of National Organizer of the NDC party, Kofi Adams who prior to the 2016 elections said the NDC was the most attractive political party in the country especially in the Ashanti Region, the stronghold of the NPP.
But, Mr. Goosie Tanoh, a former personal assistant to Chairman Rawlings maintained the NDC lost track with floating voters which according to him caused the party to lose over a million votes.

He appealed to members of the party to give him chance to lead the NDC as its presidential candidate to win back the lost trust of floating voters.

Mr. Goosie Tanoh said "don't deceive yourselves, it has not been well with the NDC, in 2016, we lost by one million votes, don't make a mistake that only NDC members can win elections, we can't. Same with ruling NPP, we need floating voters to elections".

Goosie Tanoh appealed to delegates to "think carefully" before casting their votes.

He further noted that a solid, organised and resourced NDC is imperative for victory in the next presidential elections. He assured that he will work towards strengthening the grassroot of the party as well as deepening party interactions if he gets the nod to lead the party.

The "rising together campaign" trail of Goosie Tanoh continues Tuesday in some part of Accra.
Source: Emmanuel Coffie