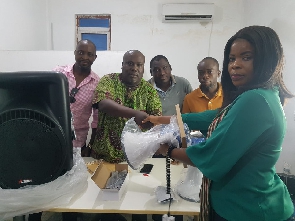 A leading member of the National Democratic Congress (NDC), Janet Keturah Naa Ashong, has donated some items to the party's Anyaa Sowutuom constituency office in the Greater Accra Region to supports its operations.
The items included 245 chair for the wards, 24 tables, 26 megaphones, 10 chairs for the constituency office, 1 personal address system, 2 deep freezers for outgoing coordinators, with GHc4000.

Hitherto, she had presented 10 plastic chairs and a table to be used at the constituency office.

According to Keturah Naa Ashong, who is a former parliamentary aspirant, the donation formed part of her commitment to resource the party at the constituency level towards election 2024 and beyond.

She described communication as critical in political party organisation, adding that the communication gadgets would help the party campaign effectively ahead of the 2024 general election.
Keturah Ashong also stated that the chairs and tables will contribute significantly to holding stress-free meetings at the wards, while making the hiring of chairs and tables for such meetings to an end.

She charged the executives to take good care of the items by maintaining them properly.

She also urged other party members to unite for victory for the NDC in the upcoming polls.

Receiving the items, Kwesi Arhin, the Constituency Chairman, praised Keturah Ashong for the gesture and assured her that the logistics would be used for the intended purpose to ensure victory for the NDC.
He also urged other party members to emulate the example of Keturah Ashong.

Share your news stories and ideas with GhanaWeb




To advertise with GhanaWeb


You can also watch the latest episode of People & Places on GhanaWeb TV:




Meanwhile, watch a snippet of GhanaWeb TV's latest program that focuses mainly on Everyday People below:





AE/DO