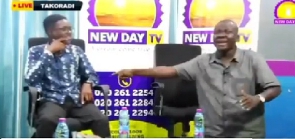 Efo De Commander, the Communication Officer of the Takoradi constituency for the New Patriotic Party (NPP), has commended President Nana Addo Dankwa Akufo-Addo for the implementation of the Free Senior High School (SHS) policy.
According to him, the opposition National Democratic Congress (NDC), which initially criticized the policy, has now recognized its benefits by choosing a "sensible person" from the Free SHS program to speak on national issues on their behalf on TV.

"Nana Addo Dankwa Akufo-Addo, President Akufo-Addo, I am in NPP, and he is in the NDC, the two of us here, we are Voltarians.

"I am in NPP, and he is in the NDC...the policy you introduced, the Free SHS, the NDC was looking for someone, "sensible person", to come and speak for them on TV. They brought in someone who is a product of your Free SHS," Efo De Commander stated.

He went on to request forgiveness from President Akufo-Addo and the NPP team for any negative statements that may have been made against the Free SHS policy from the Volta region, where he asserted that they initially resisted its implementation.

"President Akufo-Addo, please forgive us Voltarians for speaking against the Free SHS...NPP people, Bawumia, the Free SHS that you brought upon which the NDC were speaking ill of it, and my own Anlo people were speaking against it, president Akufo-Addo and Bawumia, today that the NDC wanted a sensible person to speak on TV, they have brought someone who went to free SHS and currently at UMAT to sit on TV, Nana Addo and NPP government we beg you, whatever we have said against the Free SHS forgive us," he said while kneeling on TV.
The Free SHS policy has been a cornerstone of the NPP government's educational initiatives, the policy however, has been a subject of political debate since its implementation over its timeliness and infrastructural issues.


TRENDING: Emotional moment as Efo De Commander knelt to thank Akufo-Addo for implementing #FreeSHS after his Voltarian NDC brother who is a beneficiary of Free SHS appeared on the show to speak for the NDC.

The dumsor man wants to come and destroy it but Ghanaians won't allow… pic.twitter.com/7aLV5HoF19

— Twitta Patriots (@TheTPatriots) August 2, 2023
AM/SARA
You can also watch the latest episode of Everyday People on GhanaWeb TV below:




Watch the latest episode of The Lowdown on GhanaWeb TV below:




Share your news stories and ideas with GhanaWeb




To advertise with GhanaWeb