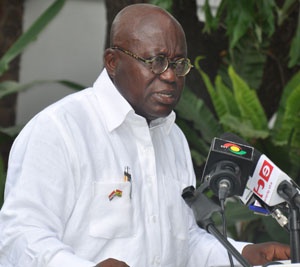 Mon, 26 Nov 2012 Source: Philip Kofi Ashon
The Presidential Candidate of the New Patriotic Party (NPP), Nana Addo Dankwa Akufo-Addo has cautioned Ghanaians to vote for a government that has the vision to invest in its people and ensure rapid socio-economic development, which in his opinion is the NPP.
Speaking at an NPP Rally at Mankesim in the Mfantseman West Constituency in the Central Region on Sunday, Nana Addo promised that his government was going to invest in factories for the production of materials and items the nation requires to develop.

According to Nana Addo, the National Democratic Congress had failed to continue the works of the Kufuor-led administration.

Citing examples such as the increase in the price of premix fuel for fishermen in the country, the NPP presidential candidate announced that he was going to bring back the Ministry of Fisheries once elected into office.

He announced that under his government, he would ensure all politicians will be removed from the administration of the fishing industry in Ghana to ensure the development of the industry in Ghana.
Highlighting the role of education played in the evolution of the world's developed economies, Nana Addo promised to send Ghana along a similar route with the introduction of his proposed free SHS policy.

He also indicated that senior high school was going to be made a part of basic education once he was elected into office.

According to Nana Addo, unlike the NDC who had wasted the tax payer's money in payment of judgement debts, he was going to ensure the commencement and sustenance of the free SHS.
Source: Philip Kofi Ashon