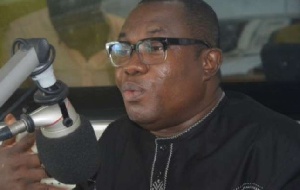 Mr Samuel Ofosu-Ampofo, Director of Elections of the National Democratic Congress (NDC) has advised party members to adopt "the Jehovah Witness and trotro-mate theories" to ensure effective party organisation to recapture power during the 2020 polls.
He said "our approach to party organisation must be based on the Jehovah witness' principle of making sure that we knock doors , talk to people, be consistent with our messages, be focused, and results-oriented" adding once we adopted that theory, we would make a headway.

He also explained "the theory of trotro-mate and passenger philosophy" saying "the mates are focused on the passengers, determined to get on them board their vehicles, they run to help the passengers carry their luggage onto the vehicle" adding "So once we focus on the people, they get to know that we are concerned about their welfare, that is the bottom line of organisation, they will relate very well to us."

Mr Ofosu-Ampofo was speaking in an interview with the Ghana News Agency in Tamale over the weekend after facilitating a training organised by the Ghana Institute of Social Democracy (GISD), the NDC's schools, for the NDC's communication team members in the Northern Region.

About 320 party members including; communication team members of the NDC in the region benefited from the two-day training, which focused on political leadership, political communication and party leadership to amongst others build the capacity of members of the party to help in its re-organization drive.

Mr Ofosu-Ampofo said the party should adopt a strategy of bottom-up approach to writing its manifestos by going to the grassroots, sampling their opinions to ensure that the manifestos reflect the wishes and aspirations of the people.
He said the party was working to ensure that it did not restrict its congresses to only elections but also to debate policy issues and agree on policy positions that the party wanted to adopt to reflect the aspirations of the people.

He advised party members not to discard local knowledge saying "When we go to the communities to work, do not think that you are the organiser and so you know everything, get down with the people, and find out their challenges" to help fulfil their aspirations.

Mr Ofosu-Ampofo also spoke about the performance of the one-year old government of the New Patriotic Party describing it as abysmal saying it was "a walking contradiction" as it was doing the exact opposite of what it promised the people.

Mr Peter Boamah Otokunor, Registrar of GISD and Deputy Director of Research of NDC said the party was expanding the training to cover more members and topics to help in its re-organisation drive to recapture power in 2020.

Some of the participants described the training as useful as it had enlightened them about the history of the country, the party and its ideals as well as how to effectively prepare themselves to communicate well to achieve impact.