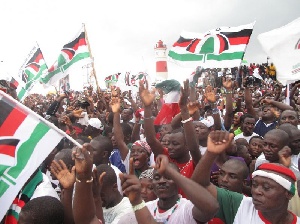 A leading member of the ruling National Democratic Congress (NDC) Alhaji Sani Mohammed has stated that they will face the opposition New Patriotic Party (NPP) boot for boot in the Ashanti Region on margins in the December polls.
He indicates that the NDC will sweep a greater margin of votes from the strongholds of NPP and that they will take the country by storm.

Alhaji Sani warned NPP members not to tickle themselves that they are winning this election, saying they are working vigorously to retain power.

'We are ready for the battle, we will face NPP boot for boot, I am not implying that we will foment trouble, no. We know that our one million votes target is achievable, NPP members don't learn, history is there to guide all of us, check history we prophesised 270,000 in the previous election and we got it after the elections, so if we say we will get it, we know what we are talking about.

I will not be pushed to reveal our strategy of winning greater margin in the region, we know that what we are targeting is achievable, we will make it,' he expressed hope.
The former Ashanti Regional First Vice-Chairman of the NDC, admitted that like any other institution the government is facing challenges, such as 'Dumsor', assuring Ghanaians that things will normalised.

'We have told people that we did not cause the Akosombo Dam to dry up, electricity has a peculiar problem from other problems, things are normalised now,' he said.

He expressed hope that the electorate will vote for NDC based on their infrastructural development, saying NPP is the least party Ghanaians will vote for to be in the helm of affairs.

He added that NDC is the only party that will change the fortunes of Ghana and that they will unseat most of the NPP parliamentary candidates in the region.