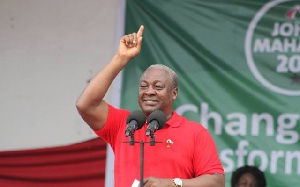 The next National Democratic Congress (NDC) government will introduce a programme to bridge the gap between industry and education, President John Dramani Mahama has promised.
To do that, he said, the next government will establish a unit under the National Council for tertiary Education (NCTE) to coordinate interventions for linking tertiary education to industry.

The president made the statements as a campaign message in the NDC manifesto to convince Ghanaians to grant his government a second term in the impending elections.

"NDC will continue to promote collaborative programs between industry and tertiary institutions to increase opportunities for practical training and internship", he promised.

According to President Mahama, the NDC will continue to make entrepreneurship training a key component of the education system and review curriculum development of tertiary institutions to meet the skills and human capital needs of industry.

He indicated that there will be incentives provided to industries and businesses that provide more room for internships.
His government, he said, will support Ghana Statistical service to resume the production and publication of the monthly Labour Market Statistics to inform programme choices and accreditation at the tertiary level

Already, the President intimated that the NDC has introduced social interventions in the education sector; including the implementation of the progressively free Senior High School (SHS) programme, scholarships for over 10, 000 SHS students, free school uniforms, free exercise books and free sandals for school children.

He observed government has initiated bills designed to respond to the changing dynamics in professional education, education sector decentralization, book development, adult education, tertiary education and technical and vocational education.

President Mahama mentioned the Chartered Institute of Bankers bill, education bill, library services bill, Ghana Book Development agency bill, Non- Formal Education Agency bill, Tertiary Education Research Fund bill, National Commission for Tertiary Education bill and National Accreditation and Qualifications agency bill, as bills being processed for enactment.