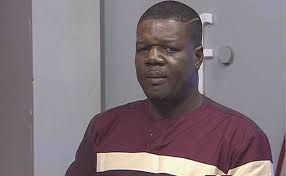 NDC Member of Parliament for the South Dayi Constituency in the Volta Region, Rockson Dafeamekpor has indicated that his party will welcome the alternative relief to include the current voter's ID Cards and birth certificate to the required documents needed for the new register.
He based his alternative relief on an instance where the Supreme Court threw out the request of the opposition National Democratic Congress (NDC) to enjoin the Electoral Commission (EC) to maintain the existing voters' register for the 2020 general election.

Speaking on Okay FM's 'Ade Akye Abia' Morning Show, Hon. Dafeamekpor mentioned that the primary relief of the opposition National Democratic Congress (NDC) will be to see that the new register does not take off.

"Our primary relief is that the new register will not take off and if it becomes necessary per the Supreme Court ruling that we have to do a new register, in the alternative, the EC should not limit the requirement to only passport and National Identification Card for the registration," he mentioned.

"The alternative relief is to add the Voter's Identification Card and birth certificate to the requirement materials needed for the new register because our law accepts that these documents can be used for this exercise," he stressed.

He however was hopeful that the Supreme Court will rule in the favour of the National Democratic Congress (NDC) as the case before the Apex Court is a very reasonable and formidable one, but pray to Ghanaians not to see the case as NDC's alone.
"We are hopeful that the case we took to the Supreme Court will go in our favour and we don't want people to think that it is a case for the NDC alone; it is a very reasonable and formidable case," he added.

He argued that the allegation of foreigners being featured in the current voters' register is false as Abu Ramadan could not established such claim at the Supreme Court except that some Ghanaians used documents such as NHIS Cards and Driver's Licenses that are not required for the registration.

"The Supreme Court ordered the EC to delete those names out and give them the opportunity to re-register with the required documents. Does it mean that those people are foreigners? Even our payroll has ghost names on it and so there is no perfect rosters anywhere in the world . . . " he added.

To him, it will be wrong for people to say that the voters' register which is 99 percent clean is a bloated register as the calculation of the 56,000 people who used wrong documents to register constitute only 1 percent.

"We have allowed the people to use the term bloated and it has become a reality; it is very bad," he complained.