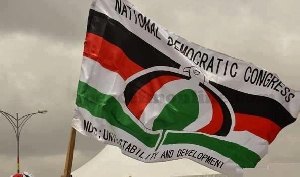 Mr Joshua Agudah, leading member of the Tema East National Democratic Congress has stated that the names making rounds for a Presidential slot in their party were all winnable candidates for 2020 elections.
"If it were permissible, I would have urged NDC to cast lots to select our next flagbearer for 2020 – the list is too rich to vote to select one among the lot," Mr Agudah added.

According to him, every single one of the names that had come up so far richly deserves to be flagbearer.

Mr Agudah who was speaking in an interview with the Ghana News Agency on the future of the NDC said the names making the rounds are; Rt. Honourable Doe Adjaho, immediate past Speaker of Parliament, Mr Ekwow Spio Gabrah, immediate past Minister for Trade and Sylvester Mensah, immediate past Chief Executive of the National Health Insurance Scheme.

Others, he said are; Professor Joshua Alabi, immediate past Rector for University of Professional Studies (UPS), Mr Goosie Tanoh, respected Parliamentarian, Mr Alban Bagbin and former President Mahama.

"It is an understatement to call the list a galaxy of stars, I call it an assemblage of political titans. It will be very difficult for me, personally to choose just one out of all these titans to lead us into 2020," Mr. Agudah said.

He said with Ex-President Mahama having already gotten his shot at the Presidency, both as Vice President and President, it was initially believed that he was going to give way for others to assume the mantle of leadership of the NDC into 2020.
"However, the body language of the former President indicates he might still be interested in a comeback, with some people, including; Ekwow Spio Gabrah publicly stating that they will only contest if he does not make a comeback."

Mr Joshua Agudah said the sheer cachet of all the materials available to the NDC makes it impossible for him to pitch camp.

"All the possible aspirants are also foundation members of our party and I have tremendous respect for all of them and so I don't know how I am going to vote if the time comes for us to cast ballots.

"I probably will just wait and then throw my weight behind the one that emerges to lead us," Mr Agudah said.

He said the NDC was winning back power in 2020 as all signs were all over the place that Ghanaians were getting disappointed.