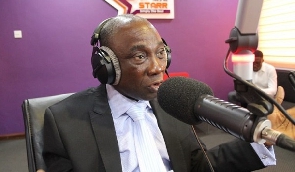 Former Power Minister under the erstwhile Mahama government, Dr Kwabena Donkor has said the National Democratic Congress (NDC) is poised to win political power in the upcoming 2020 general elections.
Dr. Donkor who is the Member of Parliament for Pru East believes an NDC government with former president John Mahama as its leader will make so much progress than what the Akufo-Addo led New Patriotic Party (NPP) government is doing.

He stated the track record of Nana Akufo-Addo in terms of the projects cannot be compared to what Mr Mahama's government did within his four year mandate in office, saying NPP has nothing meaningful to show although it has borrowed more than the Mahama adiministration.

"We don't need power for power sake,but we must be passionate for power because we can develop Ghana better [than NPP]… We are going to Flagstaff House because we will serve the country better," Dr. Donkor told Kwame Minkah, host of Ete Sen on Radio XYZ 93.1 on Tuesday.

He mentioned the building of power plants and the procuring of power badges by the previous government to tackle the power challenges the country was facing in 2015, the building of schools, world-class hospitals and other infrastructure are initiatives that Ghanaians have appreciated after the NPP took over power.
"They [Ghanaians] have seen the difference. They have carried water and alcohol and they have now seen the difference, " he said as he argued that Ghanaians are "tired" of the current government.

Asked what the NDC will do differently to win power, the former Petroleum Commission CEO said, "What did not go well, we will change it. We'll change communication. Prior to the 2016 elections, some people thought the presidency had no issue but we the MPs had problems…If you check our campaign in 2016 we sang and played music but organization on the ground was weak."

According to him, the supporters of NDC are united and poised for power because they have seen the difference in the governance style of the NDC and the NPP hence they [NDC members] are working to unseat the NPP.

He mentioned the Kwesi Botchwey report found that there was a "disconnect between the grassroots and the government" and urged the leaders of the party to ensure that a good relationship exist between the party and the government if NDC wins elections in the future.