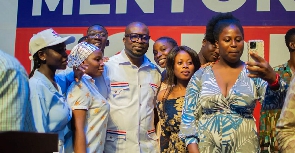 The National Youth Wing of the ruling New Patriotic Party (NPP) has organised a mega mentorship forum for young people. The event came off last Thursday, August 3, 2023, at the campus of the University of Professional Studies, Accra (UPSA) and attracted over 1,000 young people.
Addressing participants, National Youth Organiser of the NPP, Salam Mustapha underscored the significance of innovation to reach out to the teeming young following in the country.

Outlining the focus of the event, he said "The program is intended to recruit, train, and shape minds for the party"

He urged participants to share the knowledge they gathered at the program with friends and colleagues who could not make it.

He touted the NPP as the longest and oldest political tradition in the country and also a party that is youth-centred.
'It's a party dominated by the youth', he stressed

Other speakers who took turns to address participants include; Hon Samuel Abu Jinapor, MP for Damongo and Minister for Lands and Natural Resources, Mr Sammi Awuku the Director General of the National Lottery Authority (NLA).

The National Chairman of the NPP, Mr. Stephen Ntim chaired the occasion and also present were several National Executives.

Participants expressed satisfaction with the concept and encouraged the national youth wing to embark on more such engagements.