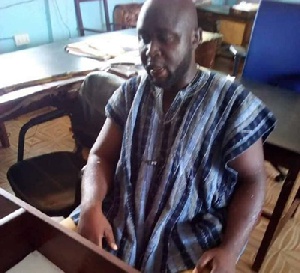 The ruling New Patriotic Party (NPP) in the Northern Region has condemned the attack on the Northern Regional Secretary of the National Democratic Congress (NDC), Sualisu Be-Awuribe, who was attacked by some alleged NDC 'Boys'.
The NPP in the Northern Region is calling on the security agencies in the region to promptly investigate the matter and bring the perpetrators to book.

According to the NPP, November 3, 2018, would long be remembered in the Northern Region, as the region was needlessly plunged into confusion by lovers of violence over issues that could have been handled peacefully.

The NPP stated that there is no denying the fact that the NDC is an extremely violent party for them to have engaged in acts of butchering with offensive weapons.

A statement signed by the Northern Regional Secretary of the NPP, Sulley Sambian, said the sad event of the NDC came at the time the NDC was battling with "just one p3" challenge thrown to them by the Vice-President, Dr. Mahamudu Bawumia.

He indicated that in 2009 some members of the NPP were butchered at Agbogbloshie in Accra. Houses belonging to NPP members in the Northern Region had been burnt in the past. The 'Azorka boys' are reputed to have engaged in all manner of violent acts not just against the NPP but against their fellow NDC members.
A group calling itself 'Aljazeera' boys affiliated to the opposition NDC on Saturday attacked the Northern Regional Secretary of the NDC, Sualisu Be-Awuribe and other party executives in Tamale.

According to reports, the group attacked some constituency chairmen, who were holding a 'secret' meeting organized by Be-Awuribe at an undisclosed location in Tamale.

The regional secretary was subjected to severe beatings, bleeding from the mouth and nose while the windscreen of his official vehicle was damaged by the NDC hoodlums.

According to reports, the attack on the party secretary angered his supporters called 'Aluta boys' who also stormed the office of the regional chairman, Alhaji Ibrahim Mobila, to destroy windows and some items.