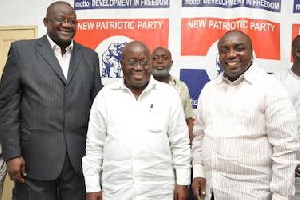 Fri, 25 Dec 2015 Source: GNA
The New Patriotic Party (NPP) is currently facing both constitutional and leadership crisis, Mr Daniel Kwaku Denteh, the Deputy National Organiser of the NPP has said.
"If we want to limit ourselves to one side that will be a disaster in itself," Mr Denteh stated in Accra at a colloquium organised by the University of Professional Studies, Accra (UPSA).

The colloquium dubbed "Challenges in NPP: Is it Constitutional or Leadership Crisis?" was organised by the Master of Philosophy in Leadership Class of the School ofGraduate Studies (SOGS), UPSA.

He said the issue at stake was so delicate that, talking about it might lead to a contempt of court; adding that "Since my Chairman, Paul Afoko has decided to go to court, very soon the court will determine the matter; whether he has a case or not?"

He recounted that other political parties such as the National Democratic Congress (NDC) and the Convention People's Party had also gone through similar crisis.

"Nana Addo Dankwa Akufo Addo, the Flagbearer of the Party has admitted that we have a crisis in the Party. We cannot sweep things under the carpet with the pretext that it is well," Mr Denteh said.
He said the NDC went through a similar crisis at their Koforidua Congress and was able to emerged out of it to win the general election.

"I am sure that in Ghana there is the need for you to go through crisis, after which you can win an election," he said.

Mr Denteh lauded the UPSA for carrying out such an academic exercise which according to him would go a long way to promote Ghana's democracy.

The Deputy National Organiser of the NPP urged the students to be objective in their analysis of the issue at stake.

Dr Abednego Okoe Feehi, the Pro-Vice Chancellor, UPSA, advised students to put into practice the knowledge they had gained during their studies.
He extolled the MPhil in Leadership Class for being innovative in taking up for study, real happenings on the Ghanaian political scene.

Professor Goski Alabi, the Dean of the SOGS, UPSA, said the UPSA is a school of useful and applied learning; hence, its graduates should be able to solve practical leadership problems.

She said the colloquium was a real academic exercise, stating that "As citizens of Ghana, we are very much concerned about leadership crises the NPP is going through".

Of the three groups of students who did the presentation; two were of the view that recent happenings in the NPP was both constitutional and leadership crisis; while the other group said it was a leadership crisis.
Source: GNA