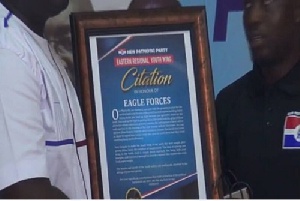 The ruling New Patriotic Party has honoured Eagle Forces, a Vigilante group of the Party in the Eastern Region.
The vigilante group was presented a special citation Award recognizing and taunting their immense contribution to the victory of the party in the 2016 general elections by providing security for the party throughout the campaign and beyond.

The group was among several awardees during the Eastern Youth Conference and Awards held Sunday in Koforidua on the theme: "Celebrating youth Voluntarism and Hard work to sustain Political Power in 2020 and Beyond."

The award ceremony was organized under the auspices of the Eastern Regional Youth wing of the NPP.

The Citation for the Eagle forces was presented by the National Youth Organizer of the Party, Sammy Awuku.

Political Vigilantism gained notoriety before, during and after the 2016 election. The Delta Forces and Invisible Forces within the ruling New Patriotic Party (NPP) have engaged in several lawless and violent actions including attack on a Court to free members of their group who were standing trial.
Also, the group attacked a Regional Security Cordinator and evicted him from his office in Kumasi in protest against his appointment.

The Eagle Forces in April attacked the Eastern Regional head office of the National Health Insurance Authority and succeeded in locking up the office in protest against appointment made by the President.

The Coalition of Domestic Election Observers, (CODEO) has embarked on a nationwide stakeholders consultation forum to solicit support to eradicate political vigilantism from the political environment of Ghana.

CODEO has emphasized that, political vigilante groups must be disbanded because the groups poses threat to the security of the country.

The National Peace Council has consistently impressed upon political parties in the country to disband and do away with vigilante groups in order to sustain the stability of the country.
Security analysts believe if care is not taken to nip the menace in the bud, it may offshoot into rebel and militant groups as recorded in other countries facing serious security challenges.

Awards

The Eastern Regional Youth Conference and Awards also honoured all constituency youth organizers of the party in the region, TESCON, Financiers and some National Executives including acting National Chairman, Freddie Blay and Samuel Awuku- National Youth Organizer.

The Eastern Regional Youth Organizer of the NPP, Jerry Opoku said, the awards are in recognition of the hardwork the awardees that enabled the party to capture power.