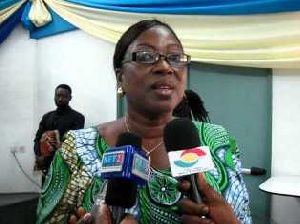 Fri, 30 Nov 2012 Source: Deborah Wiafe-Agyei
Deputy Minister for Transport, Dzifa Attivor has described as an untruth assertions made by former President, John Agyekum Kufuor that his government left behind a total of $19 million dollars for the rehabilitation of the railway sector.
"I was surprised when I heard on the news that His Excellency former President Kufuor made the assertion that they (NPP) had secured the funding and if the NDC hadn't come into power, the railway sub sector would have been rehabilitated."

Speaking on Citi FM's news analysis programme, Eyewitness News, Ms Attivor said contrary to the assertions of the former President, there were, "a lot of agitations going on on a weekly basis at the Ghana Railway Company concerning their salaries delayed for about eight months as well as non-payment of severance packages".

"Because the NPP claimed they left some money, when we [NDC] took office, we quickly wrote to the Ministry of Finance for the release of this funding but we were told there was no money left for such a project," she said.

The Deputy Minister further disclosed that it was the late President, John Mills who advocated for the release of some funding for a minimal intervention.

"His Excellency the late Professor John Evans Atta Mills released some funding for some minimal intervention so that the bauxite and manganese could be transported to the port. We also directed that their salaries which were in arrears for the past eight months be paid; the 50% to be paid to the 670 workers who were laid off were also paid," she stated.
She mentioned that the NDC government has currently increased the salaries of the workers to more than 100 % because the salaries were below minimum wage.

"Their salaries were below the minimum wage so as inspired by the laws of the land; we had to make them at par with the workers of Ghana and so far we have given them more than 100% increment in salaries and the workers can testify to that".

"It took President Mills to go to China to secure the $3 billion china development bank loan out of which $500 million has been allocated for the Western rail rehabilitation and the procurement processes are on going," she opined.

"We have done more for them than the NPP government so for president Kufuor to peddle falsehood about leaving funding for us, I beg to differ. It is not true," Mrs Attivor added.
Source: Deborah Wiafe-Agyei