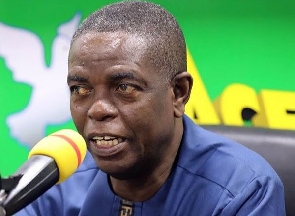 The Managing Editor of the Insight Newspaper, Kwesi Pratt Jr, has contrary opinions about the victory of the New Patriotic Party (NPP) in the just by-election that took place in Kumawu.
NPP's Ernest Yaw Anim, emerged winner in the Kumawu by-election with 15,264 representing 70.91% of the valid votes, whereas the NDC candidate polled 3,723 representing 17.29%.

The independent, Kwaku Duah, an independent candidate secured 2,478 representing 11.51%, while the next Kwaku Duah who also stood as an independent candidate managed some 62 votes representing 0.29%.

According to Kwesi Pratt, the percentage clocked by the NPP cannot be described as a landslide victory after it lost up to about 10,000 votes in this by-election compared to the total votes in the 2020 election.

"Today, I was looking at the headlines and they are all talking about the landslide victory, I don't see any landslide victory in this election. What is landslide about this election? If you do the analysis, clearly, more than 10, 000 people who voted in the last election did not vote in this election and NPP lost substantially," he said.

He further explained that the third independent candidate on the ballot paper, Kwaku Duah, was a force that contributed to the loss of the NPP.

"In fact, all those who did not vote in this election if you look at the numbers, normally would have been counted as NPP voters. If you do the analysis of the last elections, you will realize that the independent candidate was getting his votes from NPP supporters and the guy who won was also getting his votes from the NPP supporters. Then we will realize that more than 10,000 votes have been lost. What is interesting is that the NDC gained a little over 1000 votes so if you are trend analysis, that should inform you about the performance of the NPP in this election," he added.
Kwesi Pratt Jr was speaking on Metro TV's Good Morning Ghana and was monitored by GhanaWeb.

Share your news stories and ideas with GhanaWeb




To advertise with GhanaWeb


You can also watch the latest episode of People & Places:





NW/WA