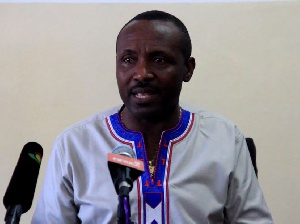 The New Patriotic Party (NPP) has cautioned its members seeking to contest the party's parliamentary primaries to desist from campaigning ahead of the 2019 polls.
According to the party, it has received complaints of such persons "overtly and covertly" campaigning to delegates ahead of the opening of nominations.

"The conduct of these persons does not only flout the party's internal regulations but also undermines the very structures of the party particularly at the constituency levels and regional levels," a statement issued by the general secretary John Boadu pointed out.

It said the party thus "reserves the right to disqualify" any parliamentary aspirant who fails to abide by the rules of engagement.

The NPP, the statement said, is a disciplined party hence everything should be done in accordance with rules and regulations by its members.
Meanwhile, the party asked the members to take not that the album used in electing the current constituency executives shall be the same album that would be used for the conduct of the parliamentary primaries.

"However, if the need arises for a review of the constituency albums, that decision shall be taken by the national party and communicated accordingly.

"In the light of this, it would be a futile exercise for anybody particularly constituency executives, prospective parliamentary aspirants, sitting members of parliament and other stakeholders to engage in tampering with the current constituency albums for purposes of effecting changes to suit their interest," it indicated.

That notwithstanding, the party cautioned all persons who may be engage in such enterprise to desist forthwith as they risk being sanctioned in accordance with the party's disciplinary procedures.