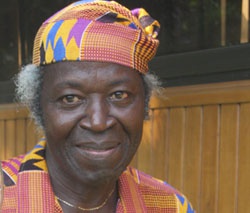 Sat, 24 Nov 2012 Source: radioxyzonline
A former founder-member of the National Democratic Party (NDP) Dr. Ofei Agyemang has revealed that the party was sponsored by the main opposition NPP.
Dr. Ofei Agyemang told Radio XYZ's Election Programme The Strong Room that the NPP gave the party financial support in its formation.

The NDP split from the ruling NDC few months ago but failed to file the nominations form of their flagbearer Nana Konadu Agyeman Rawlings to contest the December elections.

She is currently in court battling the Electoral Commission over the matter.

Many top guns of the party, including Dr. Ofei Agyemang fell out with Nana Konadu just a few days before the filing.

They accused her of being dictatorial and unilateral in decision making.
Dr. Ofei Agyemang told The Election Strong Room host Abraham Asare on Friday that the NPP bankrolled the formation of Nana Konadu's party.

"Whiles NDC was in opposition operatives of the NDC received support from the NPP and so as well it is possible for people in the NDP to receive support from the NPP, it is for a fact.

"It was financial help…I had the mandate to do the work I was asked to do and I performed to seek help from Ghanaians and we had it".

Asked whether the sponsorship came from members of the NPP, Dr. Ofei Agyemang answered yes.

Meanwhile, Dr Ofei Agyemang has rejoined the NDC and asked other disgruntled members who got swayed by the NDP to return to the mother party.
Source: radioxyzonline