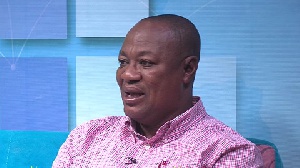 The opposition New Patriotic Party (NPP) has hinted of petitioning the Electoral Commission (EC) to extend the just ended re-registration exercise.
The EC shot down various calls for an extension of the re-registration, arguing that such a move will throw it's calendar out of gear.

But speaking to Kasapa FM's Akwasi Nsiah, the Ashanti Regional Secretary of NPP Sam Pyne explained that the party will write to the EC from Monday onwards.

According to the EC, out of the 56,772 names deleted, 22,107 have registered.
The party believes majority of voters did not verify their names, and that the possibility of considerable number of voters to be disenfranchised on the election day is very high.

The EC upon a Supreme Court ruling deleted 56,772 voters who used National Health Insurance Scheme (NHIS) cards as proof of identity to register, and were later given the opportunity to re-register.