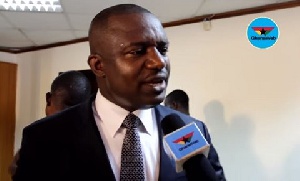 Former Deputy Energy Minister, John Jinapor has predicted the country will soon be taken back to dark days of energy crisis, popularly known as Dumsor.
Finance Minister, Ken Ofori-Atta presenting the 2018 budgetary estimates in Parliament on Wednesday said the erratic power challenges known as 'dumsor' is "dead".

The current government, he said, would put a stop to the agitations and demonstrations that were linked to dumsor.

"When I presented the budget in March, I indicated our commitment to take strategic steps to fix the challenges facing the economy and restore hope to Ghanaians," the Finance Minister noted.

Reacting to this comment on Asempa FM's Ekosii Sen Wednesday, the former Energy Minister said the current government cannot claim credit for stopping Dumsor as according to him, the current has 'done nothing to stop the crisis'.

"The Minister told us that they have stopped dumsor, Minister, what did you do? Let me explain to you, go to the Energy Commission and check, 2016, there was no dumsor…," he said.
John Jinapor further argued that his current estimation show that the government is accumulating more debts in the energy sector with his estimation being that energy sector debt alone stood 'between 1.5 to 2 billion, these are fresh debts'.
My fear is that if the Finance Minister travels along this tangent, the country would go back to the days of Dumsor.