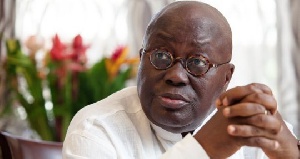 Leader of the opposition New Patriotic Party, Nana Addo Dankwa Akufo-Addo, is to name his campaign team on December 19, party officials have hinted.
Nana Addo, who has since settled on his running mate Mahamudu Bawumia, is to choose a working team that would steer his campaign efforts ahead of the elections in November 2016.

The naming of the campaign team, party officials say, will be done at a planned extraordinary congress in Sunyani next month.
The NPP has had its fingers burnt this year due to Party in-fighting. The Party is, however, hoping the Sunyani Congress will begin the process to the end of a new chapter ahead of the 2016 elections.

Nana Addo comes face to face with the NDC's John Dramani Mahama, who was last weekend given a 95 percent nod by Party faithful to lead them in 2016.