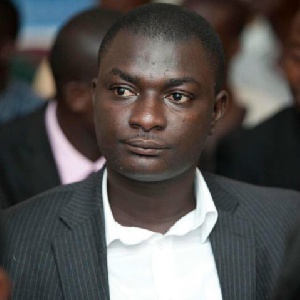 Special Aide to the General Secretary of the New Patriotic Party (NPP), Davis Opoku, says he strongly suspects the deputy General Secretary of the party, Nana Obiri Boahene, of trying to orchestrate the removal of his Boss, Kwabena Agyepong.
According to him, Nana Obiri Boahen is behind the petition by some party youth calling for Mr. Agyepong to be ousted from the party.

The four, Chris Arthur, Former TESCON-KNUST President; Adreba Kwaku Abrefa Damoa, London; Kwabena Afum Dankwa, London; and Kwame Baffoe, NPP Regional Youth Organiser, Brong-Ahafo Region are calling for the suspension of the party's Chief Scribe, alleging that Mr Agyepong is exhibiting gross misconduct, and engaging in deals tantamount to venality while in his elected position as General Secretary".

The petition said he's "still holding out Paul Afoko as the National Chairman contrary to the position of the National Executive Committee". ("Kwabena Agyepong has rubbished, and keeps rubbishing the suspension of Afoko from his chairmanship. This in our view is an act of mischievous contempt for the authority of the Party as a whole, including its elders, its leadership, and its structures.")

Agyepong's "taking unilateral decisions as a General Secretary with particular mention of a waiver he gave to some party parliamentary aspirants and the launch of a party card".
Agyepong's utterances and statements in the media are "always inimical, and counterproductive to the efforts made by the flagbearer while he contributes little or nothing towards building a strong Party, knowing very well that general and Presidential elections are less than a year away."

But speaking on Okay FM, Davis Opoku said he was not surprised at the attempts by the petitioners to see Mr Agyepong exit his position as they have never liked him.

"I know these people very well, the former TESCON President and Kwame Baffoe who is the younger brother of Nana Obiri Boahen have never liked Mr Kwabena Agyepong, in any case, Mr Agyepong remains unfazed by this petition. Once the matter is heard by whichever committee of the party, Mr Agypong will avail himself and defend himself."

Attempts to reach Nana Obiri Boahen to respond to the allegation against him proved futile.