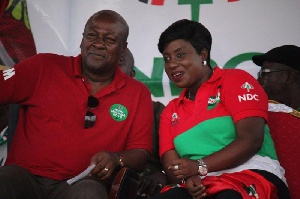 President John Mahama has endorsed the candidature of Obuobia Darko-Opoku as the National Democratic Congress parliamentary aspirant for the Weija-Gbawe constituency.
Mahama described the philanthropist as "industrious" and the best person who can spearhead development in the constituency as well as champion their interest in the House.

The former broadcaster has been conspicuous on the ground with developmental projects and donations through her Obuobia Foundation ever since she launched her bid for the second time to stand on the ticket of the governing party.

Last month, she donated an ambulance to the Ga South Municipal Hospital, after giving the same health facility a water storage system to aid in child delivery as well as the construction of bridges, boreholes and connecting some communities in the constituency to the national water pipelines among others.

Introducing Obuobia, who is the Deputy Executive Secretary of the Ghana Free Zones Board to a teeming crowd of NDC supporters at Mallam Junction, Mahama said he has been impressed with her dedication and passion for helping humanity and has no doubt she will be a fine lawmaker.

Mahama, who is seeking a second term in office come the December 7 elections, opined he is convinced the electorate in Weija-Gbawe will vote massively for the NDC judging from how Obuobia has proven herself.
"I believe that with what we have done, we deserve a second term. We are taking the Weija-Gbawe constituency," the president said about the ever-smiling MP-aspirant.

"Your parliamentary candidate has done a lot to win your votes. Look at the developmental projects she is fronting. What she has done are more than enough. I have no doubt she will over perform when she becomes an MP. Let's give her our support because she'll do things double, double. I have no doubt this year Weija-Gbawe will fall to the NDC party.

"Who wouldn't be proud to have this beautiful woman as his MP? When you vote on December 7 for me, make sure you cast your ballot for Obuobia Darko-Opoku," Mahama appealed.

Obuobia took to Facebook to express her gratitude to Mahama for gracing her campaign launch during his Greater Accra regional tour.

"I'm indeed grateful to him for making the Weija-Gbawe constituency a port of call on his campaign tour of the Greater Accra Region. I promise to live up to this trust in me to represent the NDC in my constituency," she wrote.