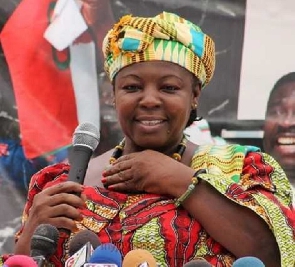 Tue, 2 Jun 2020 Source: GNA
The Convention Peoples Party (CPP) needs a complete overhaul from the ward through the constituency, regional and the national executive level for greater impact in Election 2020.
Nana Akosua Frimpomaa-Sarpong, the CPP Election 2012 Vice Presidential Candidate, said the Party needed new breed of leadership to vigilantly diagnose its electoral haemorrhage and take bold decisions to revamp it.

She said under the current political dispensation the CPP had seen its fortunes dwindling, adding: "Osagyefo Dr Kwame Nkrumah's political party is struggling even to be recognised as a third force under the Forth Republic, this is an error, which must be corrected".

Nana Frimpomaa-Sarpong, who is contesting the CPP National Chairmanship slot, told the Ghana News Agency in an interview that: "I am stepping out to contest and provide unifying platform for CPP members to come home and help rebuild the structures of Osagyefo's Party."

"Collectively, all CPP members need to join forces for re-examination, to dismantle and make extensive renovations in order to repair the party structures from ward through the constituency, regional and national levels and we need all members now than ever".

"As an accomplished entrepreneur, politically astute personality, active gender advocate, traditionally endowed, I'm ready to combine all to develop a strategic master plan to rebuild the party. CPP is still a formidable party but confronted with deep seated internal mistrust".
Nana Frimpomaa-Sarpong said the Party must mobilise all human resources available and build the capacity, especially of leaders on modern day politics and political dynamism of the Forth Republic electoral environment.

"We must empower identifiable groups – Youth and Women's wings, Tertiary networks, Council of Elders, aspiring Parliamentary candidates and leading members to understand modern mission of the party," she noted.

"The CPP cannot move forward with internal wrangling, we need all hands on deck to utilise the knowledge, resources and manpower of members".

The CPP National Chairperson aspirant said if elected into office she would set-up a special CPP Intra-Party Dialogue Platform (CPP-IPDP) to reduce any animosity among members, adding; "We must find a level ground to settle our differences as comrades".

"CPP stands at the crossroads – to move backward into political disintegration or set a democratic standard of moving forward in accordance to its slogan 'Forward Ever, Backwards Never'.
She urged the delegates to critically examine the campaign messages and other wooing antics of all leadership aspirants including the flagbearer slot and decide whom to entrust the fortunes of the Party.

"I stand at the threshold of re-building the Party through linking all constituencies to their regional offices and linking the regional offices to the national offices for effective communication," Nana Frimpomaa-Sarpong noted.

"We need to build a party and democratic system of administration under which all members will be able to contribute to the welfare, peace and prosperity of our great party and keep it from dictatorship and oppression."
Source: GNA