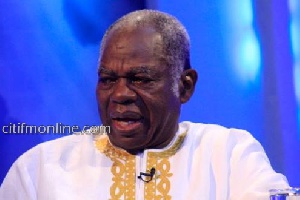 The Leader and 2016 presidential candidate for the People's National Convention (PNC), Dr. Edward Nasigri Mahama has been accused of usurping powers of party executives.
"He has been contemptuously disregarding the constitution of PNC in pursuit of his self-interested agendas", according to release issued and signed by all the ten Regional Executives of the party.

"We wish to express our utmost displeasure at the attempt by Dr. Edward Nasigri Mahama; Leader of the People's National Convention to assume the power of the party's constitution in all his dealings", they alleged.

The PNC leader who is now Ambassador at Large under current New Patriotic Party (NPP) administration, was also accused of showing disrespect to National Executives of the party severally.

"The latest illustration of such gross disregard was when he without recourse to Article 46 as amended, excluded Regional Secretaries and other members from a Standing Committee meeting"
According to the aggrieved secretaries, a meeting held on 9th September 2017, upon the instruction of Dr. Edward Nasigri Mahama who chairs Standing Committee meeting, took place without invitations to them.

"That Regional Secretaries who are members of the Standing Committee were not invited. …rather, non-members of the Standing Committee were invited instead", expressing concern to prevent such occurrence in future.

"We are therefore urging all party faithful and in fact, the general public to disregard any communication purportedly sent out by one Emmanuel Wilson as constituting resolutions from that meeting", they advised.