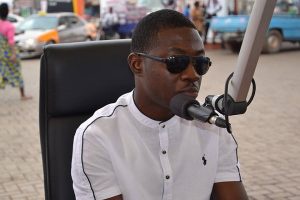 The Parliamentary Candidate for the People's National Convention (PNC) Cyril Spio Quansah, has assured that as part of efforts in making the Bantama Constituency one of the cleanest constituencies in the Ashanti Region, he will collect rubbish from house to house when he wins the seat in December polls.
He promised to employ the services of energetic young men and women who will go round with purchased Mobile Tricycles locally called 'Aboboyaa' to collect rubbish on daily basis.

According to him, the filth that has engulfed residents in the constituency will be a thing of the past, as residents will not spot rubbish scattered around Bantama and other suburbs.

Speaking to Lantam Papanko when the Ultimate Breakfast Show team transmitted live from the Bantama market, the parliamentary hopeful envisaged that this will also create employment.

Quansah stated that fighting filth in Bantama will not be an easy task but will curb the situation by dredging gutters as often as he could.

He admitted that Zoomlion has been managing sanitation, saying his door to door policy is unprecedented.
'We don't really have problem with roads, we just have to work on maintenance, but our gutters are choked with filth, the heaped Ohwim refuse is choking residents, the smell that emanates from that refuse is an eyesore, residents have to lock their rooms anytime they want to eat, residents have been struck by death due to the filth, this is a big problem, I will purchase tricycles locally called 'Aboboya' with the Common Fund that I will receive as an MP, I will distribute to anyone who is interested in making Bantama clean, we will brand the tricycles, we will go round to people's houses and collect the rubbish,' he assured.

He stated that he will wrestle the seat from the opposition New Patriotic Party (NPP).

'I did my own research of the area, lots of things are bedeviling the constituency, Bantama has been tagged as NPP stronghold, it's true, but it will not be easy for them this time round.The youth are faced with lots of challenges such as healthcare, education and unemployment, we will tackle all these problems when I am voted,' he said.

Quansah urged the electorate to vote massively for him come December polls.