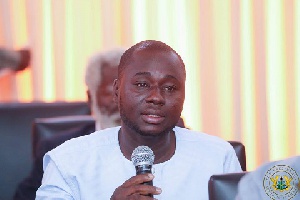 The People's National Convention (PNC) is cautioning the general public and its stakeholders that all matters and issues that need the attention of leadership should be addressed to Dr Edward Nasigre Mahama, its 2016 candidate, and Jacob Amoako, the Acting General Secretary.
The party says the two are the recognized members that must be dealt with.

While Dr Mahama is the current leader of the party, Mr Amoako is the current head of the party's secretariat, PNC said in a statement on Monday.

The statement was released on the back of recent events that have seen the suspended General Secretary, Atik Mohammed, parade himself as such.

He was suspended in July, 2017 for indiscipline, the party mentioned, though he called the decision a "joke".

Last Thursday, Atik Mohammed was said to have attended a meeting, together with National Chairman Bernard Mornah, at the Flagstaff House.


It was a meeting between President Nana Addo Akufo-Addo and political party leaders.

"A couple of months back, a similar thing occurred at a meeting organized by the Gender Ministry, where the suspended general secretary was impersonating as a general secretary of the party.

"The PNC is giving a strong caution to the general public, particularly those who deal with Atik Mohammed, that they do so at their own risk because he does not represent the People's National Convention.

"The party leadership will cause the arrest of Atik Mohammed if he continues to impersonate as the General Secretary of PNC, both in private and at public events."
The statement signed by Emmanuel Wilson Jnr, the Director of Communications, said the current leadership is determined to defend the party's constitution.

National Chairman Mornah is expected to within this week or the next be grilled by the National Executive Committee regarding the presence of Atik Mohammed at the president's meeting.