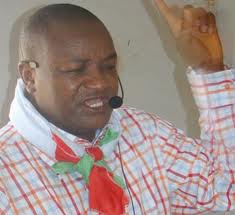 Wed, 31 Oct 2012 Source: GNA
The Flagbearer of the People's National Convention (PNC), Mr. Hassan Ayariga has promised to reintroduce the 'operation feed yourself' policy when given the nod to rule the country.

He said leadership was about making good use of the little resources available to the people, stressing that the country was endowed with various natural resources which must be used to the advantage of the people.


Mr. Ayariga was responding to questions from the maiden edition of the 2012 Institute of Economic Affairs (IEA) debate taking place in Tamale on Tuesday where the NDC, the NPP, the CPP and the PNC were participating.


The debate is the fourth in a series of debates for presidential candidates with representation in parliament since 2000 and sponsored by STAR-Ghana.


Mr. Ayariga said his government will stop smuggling of cocoa to neighboring countries and making use of fallow lands to engage the youth to produce over two million tons of cocoa saying "we believe in operation feed yourself and we know that is the best way to make the nation progress".

He said the PNC leadership would take advantage of the available resources and give the youth the enabling environment to create opportunities to increase food security trough transformation in the agricultural sector.


The Presidential hopeful who is 40 years old and born in Bawku said his government will make good use of the available water resources and make the ordinary people benefit from the sharing of the national cake.


He advocated for the separation of political power from the economic power; where economies will not be afraid to provide professional unbiased advise to the government noting that PNC government will not abandon projects undertaken by previous governments but will revamp and develop them.


Mr. Ayariga observed that small scale businesses and medium ones must be assisted to expand and employ more individuals to reduce the unemployment rate in the country adding that "tax network must be broaden to include both internal and external taxes with no tax holidays".

Source: GNA