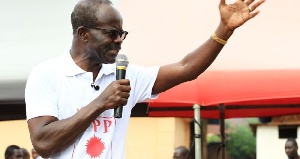 The political party an individual belongs to will not play any role in appointments in a future government of the Progressive People's Party (PPP), flag bearer Dr Papa Kwesi Nduom has said.
According to the business consultant, his ministers, who will not exceed 40, will consist of individuals who are competent irrespective of their religious, tribal or political affiliations.

In a live Facebook interaction with voters on Thursday, October 20, 2016, the three-time presidential candidate said: "We will use the best qualified men and women without regard to ethnic origin, religious affiliation and even without regard to which political party the person supported in the 2016 elections or prior to this year."

He believed this approach would help the country to benefit from competent people.

Dr Nduom was addressing the public on the topic 'A PPP administration – small, lean & powerful; inclusive, not more than 40 ministers, with the right men and women.'
Also, Dr Nduom said a PPP government would work with parliament to elect Metropolitan, Municipal and District Chief Executives (MMDCEs), thus making the need for a Ministry of Local Government and Rural Development needless.

He said a future PPP government would also change the law that requires the president to appoint 50 per cent of ministers from the legislature. In his view, such a move would help strengthen and make parliament more independent of the executive arm of government as the situation currently pertains.

This, in his view, would allow legislators to focus on their law-making duties while Ministers also focus on executing their job effectively without either of them having divided attention.

Dr Nduom is currently battling the Electoral Commission in court over his disqualification from the 2016 presidential race.