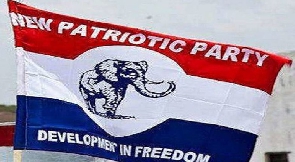 Sun, 13 Aug 2023 Source: GNA
Patrick Kabu Kudiabor, a businessman, who was one of the six aspirants of the New Patriotic Party (NPP) to pick parliamentary nomination forms, has pulled out from the race in the Krachi East Constituency of the Oti Region.
Speaking to the Ghana News Agency (GNA), he said he decided to withdraw from the primaries and support Michael Yaw Gyato, the former one-term Member of Parliament (MP) after consultation with people within and outside the party.

He said the former MP was experienced and well-positioned to lead the NPP for the Krachi East Constituency and urged all to support him.

Kudiabor made an appeal to all delegates to pay heed to the clarion call by giving a massive and extraordinary endorsement to Gyato to send a signal that the seat, which "we lost in the 2020 election is coming home."
He told the GNA that all the aspirants had the potential to win back the seat, but the one with the overwhelming political fortitude to get them the seat with ease was Gyato.

He advised the contestants and supporters to be circumspect and magnanimous in their campaigns because of the great chance of flipping the seat from the National Democratic Congress (NDC) party in the next election.
Source: GNA