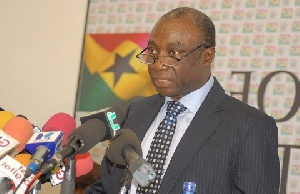 The game of politics a former minister has observed is not as rosy as many believe disclosing that it has its own shortfalls that may be sickening.
Former Minister of Power in the erstwhile National Democratic Congress (NDC) administration, Dr. Kwabena Donkor has, therefore, urged members and supporters of the party not to lose hope and also consider not to giving off their best to the party

"Political live is full of ups and downs…. but you must have it in you that you will always arise", the current lawmaker for Pru East in the Brong Ahafo Region stated.

"If I fall seven times I will arise seven times", he told the party's youth wing Tertiary Educational Institutions Network (TEIN) branch of the University of Education, Winniba, Kumasi Campus.

"What matters is not having power or having power….but what matters is what you do with the power for the common good of the people", Dr. Kwabena Donkor pointed out at a town hall meeting with the youth.

According to the former government official, losing political power is one of the biggest challenges any politician will struggle to overcome but appealed to the rank and file of the party to get together and work towards the future.
He blamed the party's 2016 defeat to the neglect NDC of core members with the focus on NPP in terms of development and job opportunities for votes.

"We lost 2016 simply because our branches were weak….we did not pay enough attention to party structures especially the branches", he observed.

"We could not manage to place TEIN people in National Service in areas that could be strategic for us", Dr. Kwabena Donkor observed.

He, therefore, urged all TEIN members across the various educational institutions to study hard and put out better argument to their colleagues on another side of political divide.

"Study hard, make the First Class, make the Second Uppers and offer intellectual arguments. …Let them know where you come from. Let them know you are from the great NDC", Hon. Dr. Kwabena Donkor encouraged.