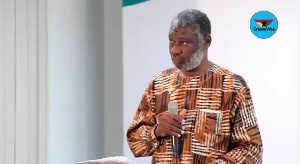 Aspiring National Chairman of the National Democratic Congress (NDC), Huudu Yahaya has entreated party delegates, particularly the youth and women to always have the interest of the party at heart.
According to him, the NDC must always come first in every decision the delegates make so as to strengthen and build the party at its grassroots level in order to stage a great comeback for the party come 2020.

In a statement copied to GhanaWeb ahead of the National Youth Delegates' Conference today, October 27 in the Central Region, Mr. Yahaya wished the youth and women wings of the party a fruitful congress advising them to have a healthy campaign devoid of personal attacks.

Read below his statement

Huudu Yahaya wishes the NDC youth and women wings a fruitful Delegate Conference

It is with great pleasure that I extend my wishes of goodwill to the youth and women wings of our dear party- the NDC.
The youth undoubtedly remain the foundation of the great National Democratic Congress.

As you converge to elect your leaders, I pray we do so in love and unity, having the ultimate focus on victory 2020 in mind.

We are aware the NDC has gone through its own trials in recent times and thankfully through our collective resolve and party mobilization, we are getting back stronger on our feet.

I wish all delegates participating in the youth and women conference well. As you go out to elect your next youth and women organizers, remember to put the party first in all decisions you take. The future and strength of our party rest on the hardworking youth and women.

I call on all party delegates, candidates and the party leadership to endeavor to work in the best interest of our party in these trying times.
May the best candidates win and may the NDC emerge stronger and victorious.

Arise NDC youth and make our party greater and stronger.

Alhaji Huudu Yahaya have you at heart.

Best regards.