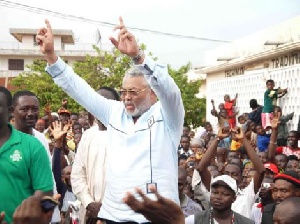 National Democratic Congress (NDC) Founder, former President Jerry John Rawlings has called on Ghanaians to ensure a very peaceful, incident-free election because Ghana is a beautiful country and must be kept that way.
The former President said if Ghanaians resist the temptation to provoke and respond to violent things then the elections will be held in a peaceful atmosphere.

"When we corrupt the electoral process it can lead to instability and bloodshed. We don't want that. We should stop provoking each other with some of the nasty things we say on radio. We must learn to show respect towards each other.

"Let us protect the sanctity of the right of election and if we do have elections that are free and fair I believe we will all accept the results," President Rawlings said.

The former President made the call when he addressed hundreds of enthusiastic supporters of the National Democratic Congress who had converged at the forecourts of the Techiman Palace on Friday.
"I plead with you not to allow any kind of provocation that will lead to violence. It is a beautiful country and let us keep it that way.

President Rawlings, whose address was regularly intercepted by cheers of support and excitement, also called on Ghanaians to hold all Presidential candidates to the promise of combating corruption. He said Ghana is tired of corruption "so if they say they will fight corruption we will hold them to it. We have to tackle not only political corruption, but also judicial and economic corruption."

The Constituency Organiser of the NDC, Mumuni Saaka commended President Rawlings for bringing development to Techiman through the provision of electricity and water. President Rawlings however noted that that the development was as a result of the hard work and desire of the people of Techiman in supporting developmental policies during his tenure as head of state and President.

Earlier president Rawlings called on the Queemother of the Techiman Tradition Area,Nana Hemaa Abrefipoto during which he urged the traditional leadership to support and lead the campaign for a peaceful election.