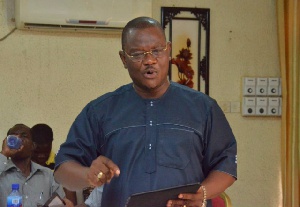 Flagbearer hopeful of the National Democratic Congress (NDC), Sylvester Mensah has urged newly-elected executives and members of the party to put aside all differences and join forces to secure victory for the 2020 elections.
The former National Health Insurance Scheme boss called for unison between the current leadership, past executives and the grassroots, a move he believes will ensure the party's success in the upcoming elections.

In a congratulatory Facebook post, Mr Sylvester Mensah charged the newly-elected executives to involve past executives as well as aspirants who failed to win slots within the party's leadership, in decision-making processes.

"I beseech all to be magnanimous in victory and see everyone who showed interest in the process as partners in the march towards victory in 2020! Indeed the only constant in life is change! For both retained and newly elected executives, the instructive word is change in our relationships and engagements with the rank and file of the party. Let us quickly reach out and bring on board all former executives and our comrades who were unsuccessful at the elections to ensure unity and harmony right from the outset", Mr Mensah wrote.

From his observations during the constituency elections, Mr Mensah concluded that the electoral process was fair, transparent and devoid of any mishaps. Echoing the 'change' mantra in his post, he encouraged the newly-elected executives and party faithfuls to ensure that a trustworthy flagbearer is elected to lead the party in the 2020 elections.


On Saturday June 23, the main opposition National Democratic Congress (NDC) held its party's constituency elections in 259 constituencies out of 275 nationwide.

The outstanding 16 constituency elections failed to come off due to what the party describes as the lack of preparation towards the elections, as scheduled.