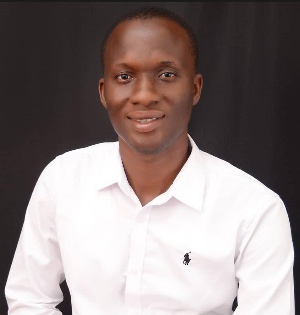 Tue, 11 Sep 2018 Source: Mohammed Saani Ibrahim
Ralph Apetorgbor, Deputy Communications Officer of Anyaa-Sowutuom Constituency branch of the National Democratic Congress (NDC), has urged the leadership of the party to reinvigorate the party at the grassroots towards victory in the 2020 polls.
He explained that the success of the party's regional elections should send signals to party loyalists, well-wishers and supporters to remain resolute to recapture power in 2020.

Mr Apetorgbor made the call when he spoke exclusively with this reporter and lauded delegates of the just ended Greater Accra Regional Ninth Delegates Conference of the NDC for a peaceful congress.

Commending delegates, candidates and their campaign teams for the peaceful manner in which they conducted themselves, he stressed on the need not to be complacent but work harder to annex power from the New Patriotic Party (NPP) in 2020.

Mr Apetorgbor hailed all losing candidates for gracefully accepting defeat and appealed to them not to be discouraged but join forces with the newly elected executives to attract floating voters.
He also congratulated Mr. Kobina Ade Coker for retaining the chairmanship position, and for extending the olive branch to the losing candidates and urged the leadership of the party in the region to come together as one people in prosecuting the agenda at the grass roots.

Prior to the NDC Greater Accra Regional Delegate Conference, Madam Felicia Bortey and Mustapha Ashong were respectively elected as Women's and Youth Organisers at the conference.

However, the elections of two deputies each for both the Women's Organiser and the Youth Organiser were annulled by the party's Functional National Executive Committee due to lapses in voting procedures.
Source: Mohammed Saani Ibrahim