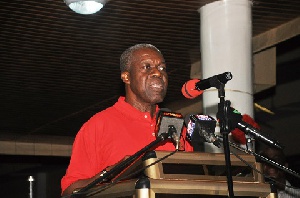 Wed, 19 Oct 2016 Source: Maxwell Okamafo Addo
Vice President Kwesi Amissah-Arthur has downplayed the calls by the opposition NPP for a change in governance.
He said the government has brought a lot of change in the lives of Ghanaians and called on them to reject the call by the NPP.

He expressed disgust about claims by the opposition NPP that infrastructure development "Don't put money in one's pocket" adding that in the next hundred years these facilities would benefit a lot of people.

"Some people are calling for change, Change is good and change is happening. But the one that reverses progress is not change ", Vice President Amissah-Arthur stressed.

The Vice President Kwesi Amissah –Arthur was addressing students of the Assin Foso College of education as part of his four day campaign tour of the Central Region.

He announced that the government had released 50 million Ghana cedis for the payment of feeding grant for all the 42 colleges of education as feeding grant.
The amount which was released by the GETFUND to the Ministry of Education for the 2016 academic year.

Mr Amissah Arthur underscored the need to allow the government to pursue its agenda towards improving the lives of majority of the people. On infrastructure development which is being executed across the country. He said those facilities would benefit all regardless of one's status or position.

Vice President Kwesi Amissah-Arthur said as they can witness the John Mahama government has done a lot for the education sector in the area of massive infrastructure development for the education sector and would continue to do more hence the need to give John Mahama another term.

Vice President Kwesi Amissah-Arthur has stated that government has increased enrollment and infrastructure and access to the colleges of education.

Mr. Amissah-Arthur added that government would use the savings for infrastructure expansion in the training colleges.
He said the NDC will continue to tell Ghanaians the good work of President Mahama and the need for them to renew his mandate for another four years. The new initiative is to help educate a new generation of engineers who would help build the infrastructure and affordable products the continent needs. The Vice-President,

Mr Paa Kwesi Bekoe Amissah-Arthur reiterated that government's commitment to improve the standard of education in the country.

He stated that the government had over the years rolled out a number of projects to address the pressing infrastructural challenges confronting particularly second cycle institutions.

He said although the country was going through some economic challenges, the government remained committed to the provision of infrastructural facilities to deliver quality education. He used the occasion to call on the Assin Fosu chiefs Palace and also inaugurated a new one storey building at the Obiri Yeboah Senior High School.
Source: Maxwell Okamafo Addo