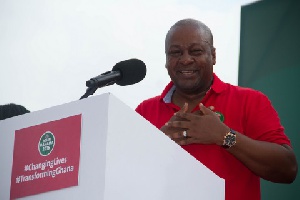 Tue, 6 Sep 2016 Source: Omane Boamah
President Mahama is not premising the provision of meters to the people of Abura on winning the 2016 election.
Likening it to Akuffo Addo's one dam one village nationwide frivolous policy is to say the President is promising one meter per one house for the whole country......which ordinarily is not a problem but fact is he didn't promise that for the whole country.

He also did not premise it on winning the 2016 elections.

These FM stations are busily looking for a twin brother for Nana Akuffo Addo in his one-this-one-that fatal crusade.
Listen to President Mahama on metro tv tonight at 9pm and you will appreciate his views on one-this-one-that......politics.

Omane Boamah from KEEA
Source: Omane Boamah