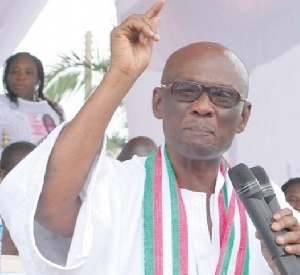 The Chairman of the Convention People's Party(CPP),Prof. Edmund Delle has vouched for the party's running mate, Nana Gabby Nsiah Nketiah saying his allegiance to the CPP is unquestionable.
This comes in the wake of the CPP youth league call for Nana Gabby to be withdrawn from the position because he's a card-bearing member of the largest opposition New Patriotic Party(CPP).

But the party's chairman said following an intense interviews before being chosen, the party is much convinced of his loyalty to the CPP.
"When you're made Vice Presidential Candidate, you must have gone through the Central Committee of which I'm the Chairman, and Central Committee will interview you and make sure that you are cleared before handing you the position. He's said it that [my loyalty is with the CPP]. So even if you are with any party his membership automatically ceases. And at his age you cannot have dual membership; it's automatic. Even that your own party will definitely not accept you."

Despite the opposition from the CPP youth, the running mate, Nana Gabby Nsiah-Nketiah was outdoored its by the hierarchy of the party Thursday October 6 ahead of the general elections slated for December 7.