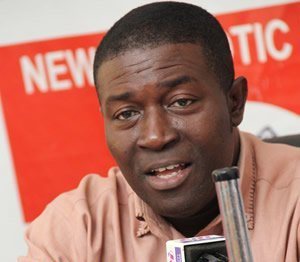 The New Patriotic Party may consider suspending its Second National Vice-chair Sammy Crabbe if he is not circumspect with his utterances about the decision of the National Executive Committee of the party.
Mr Crabbe has stated publicly that he will not respect any decision of the NEC until the suspension of its national chairperson Paul Afoko is reviewed. He says the party, through the decision, committed an illegality and any attempt to follow their directions for their party will be illegal.

But commenting on the remarks, Communications Director of the opposition New Patriotic Party Nana Akomea told Accra-based Joy FM Mr Crabbe is setting himself up for disciplinary procedures of the party by his remarks.

"I am surprised at his comments, he says he won't recognise the decision of NEC and he is supposed to be second vice chair. He may disagree but once that is a decision by NEC, he has to follow.
"I would have expected him to follow the laid down procedures of the party in expressing his grievances because even Paul Afoko himself is following the structures of the party," he said.

He added: "Now If anybody brought a petition against him on that basis, I am sure it will be given a serious attention, he is definitely setting himself up for disciplinary measures of the party."

Meanwhile, the national council of the party is currently meeting over a petition brought before it by Paul Afoko.