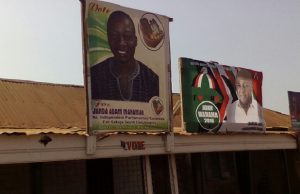 There are indications that a number of youth groups of the ruling National Democratic in the Salaga South constituency of the Northern Region, may not be voting for the incumbent Member of Parliament (MP), Ibrahim Dey.
Even though the Salaga NDC ward chairman Mr Issifu Dantawuri is averse to the stance of the youth groups, they are promising an overwhelming win for President John Draamani Mahama, but said same cannot be promised for the MP.

At an emergency meeting to address the impasse at Moshie Zongo, leaders of the groups insisted that they are only interested in the president's victory and not Ibrahim Dey and have subsequently declared their unflinching support for an independent candidate Janda Adams Mahama and John Dramani Mahama.
According to the youth, they cannot continue to support the MP who has refused account to them any development under his eight-year stewardship and as such will vote "skirt and blouse".

The youth have since removed posters of the incumbent MP and replaced them with that of the independent parliamentary candidate alongside president.