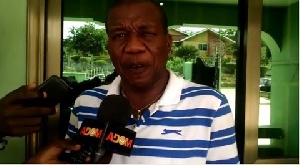 The New Patriotic Party (NPP) Central Regional Chairman, Robert Kutin has urged all party polling station executives to stay in their various areas and work hard to win more people for the party or be penalised.
According to him, the Central Regional Secretariat will soon do an audit to delete names of polling station executives who vacate their respective areas to live elsewhere leaving the party work unattended to.

"You can't be a polling station executive and stay elsewhere, how can you work for the party.?

"It is your responsibility as a polling station executive to be in your polling station before and after the elections, how can you be a polling station executive in Mankessim and stay in Accra, this is not right according to the NPP constitution. So I am urging every polling station executive to stay in their various polling stations and work hard to retain power come 2020 elections," he said while addressing the NPP National Women Conference held in the Central Region.
Kasapa FM News Yaw Boagyan reports that Chairman Kutin also vowed to ensure the four remaining Parliamentary seats occupied by the opposition NDC in the Central Region will be wrestled from them in the impending general election.

"Just as we worked very hard to win the 19 seats we currently occupy here in the Central Region here, we will intensify our work once again takeover the four remaining seats from the NDC. This can be achieved through your support, it is the responsibility of every NPP member to help maintain our seats come 2020 election."