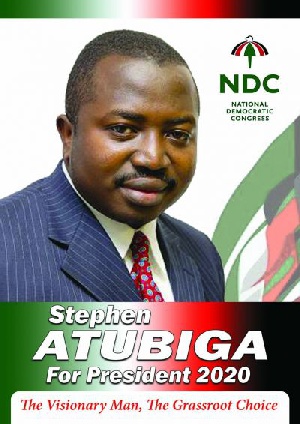 Tue, 21 Feb 2017 Source: Citizen Korsi
Posters of two-time failed parliamentary candidate aspirant of the National Democratic Congress in the Binduri Constituency, Mr Stephen Atubiga, as presidential candidate for the 2020 elections on the ticket of the main opposition party have started trending on social media.
The campaign posters show a smart looking Stephen Atubiga dressed in glitzy black suit, white inner shirt and 'designer' red tie to match with a blend of the red, black, white and green colors of the NDC at the background interspersed with the inscriptions "Stephen Atubiga for President 2020" and "the visionary man, the grassroots choice".

It is unclear whether the manufacturing and circulation of the posters have the blessing of the onetime jail bird who is reported to be reading law at Zenith University College in Accra in furtherance of his political ambition after the NDC's defeat at the 2016 polls.

Mr Atubiga announced his presence on Ghana's political scene when he contested the 2012 NDC parliamentary primary in the Binduri constituency but lost by three votes. He subsequently joined the party's communications team and made headlines after he was sentenced together with Ken Kuranchie to three days in prison during the 2012 election petition hearing for contempt.

Determined to achieve his dream, Mr Atubiga made another failed attempt in 2015 to contest the 2016 parliamentary election on the ticket of the NDC in the Binduri constituency. Relentless on seeing the NDC retain power, he joined the party's campaign team and toured the length and breadth of the country with then President Mahama.
Mr Atubiga's posters come at a time where there are uncertainties over a possible comeback of President Mahama which has led to some kingpins of the NDC lacing their boots to contest the party's primary ahead of the 2020 elections.

He joins the likes of former Minister of Trade and Industry, Dr Ekow Spio Gabrah; former Chief Executive of the National Health Insurance Authority, Mr Sylvester Mensah; former Vice Chancellor of University for Professional Studies, Prof Joshua Alibi; immediate past Chief of Staff, Mr Julius Deborah, and former MP for La Dadekotopon, Nii Amasah Namoale, who have all been rumored to be interested in the main opposition's flag bearer post.

Mr Atubiga's presidential bid is being fanned by some NDC supporters who have created a page of facebook named "Stephen Atubiga for President" as part of plans to get majority of party supporters to join in the call on him to acquiesce to requests to lead the party into the 2020 elections.

A recent post on the group's facebook page reads "…the stakeholders, the opinion leaders and especially the youth …think he is a good candidate for the NDC….The rank and file of the party know that he is ready to put his life on the line for the good people and he will also defend the integrity and progress of the NDC. He is a grassroot man and gels with the youth. He is the surest bet for 2020"
Source: Citizen Korsi