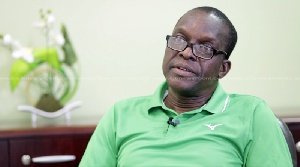 Fri, 24 Aug 2018 Source: Nana Kwabena Agyare
Communications team member of the National democratic Congress, Nana Kakra has revealed that the youth in NDC will not sit idle and watch Bagbin destroy their chances of being involved in governance.
Nana Kakra described Bagbin's comments as unfortunate especially coming from someone who has been in politics for such a long time.

"If Bagbin tries to prevent the youth, we will rise up against him. Bagbin would not have made it to where he is if he did not start from somewhere. He should stop badmouthing against the youth of the party", he told Bonohene Baffour Awuah of Ago TV, Yensempa show.

Nana Kakra's comments was as a result of a statement made by the 2020 presidential aspirant of NDC that some youth in the NDC caused the defeat of the party in the 2016 general elections. In his statement, the second deputy speaker of parliament accused persons he described as "Mahama boys" as being the reason why the NDC lost in the 2016 elections.
Nana Kakra went on to say, judging from how some party members have been ranting after the 2016 general elections, it was clearly evident that some members of the party sabotaged former president Mahama with the intention of seeing him fail.

"If you listen to how some of our party leaders speak, You will see that some members of the party clearly sabotaged former president Mahama's 2016 campaign. They did not want to see Mahama succeed" – He added.
Source: Nana Kwabena Agyare