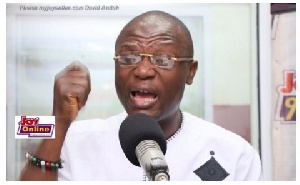 A pro-National Democratic Congress (NDC) group, United NDC, has warned the party's National Organiser, Kofi Adams to stop campaigning for former President John Mahama to be the flag bearer for the NDC in the 2020 elections.
Soon after the defeat of the NDC in last year's polls, Mr Adams, just like some leading members of the NDC, rooted for the comeback of Mr Mahama as the NDC's flag bearer for the 2020 polls.

Speaking on Asempa FM's Ekosii Sen Friday, Mr Adams indicated that he expected the former President to stage a comeback in 2020 because he was the obvious choice to lead the NDC.

"President John Mahama is still attractive and I can assure you that he will come back in 2020. He will contest the elections," he said.
But the group in a statement described this as unfortunate from a national executive member, as this could create further divisions in the party, considering that party members are yet to recover from the troubles of their recent electoral defeat. "It is on record that the party has a 13-man committee led by Professor Kwesi Botchwey, with a mandate to determine and report same, as to the reasons for the landslide defeat of the party in the last elections. With the committee's work in progress, it is unclear why the haste by Mr Kofi Adams to move from one media house to the other, trying to force a candidate on the NDC.

"We wish to put on record that his position on the fact that Mr John Dramani Mahama is the best candidate for the NDC in 2020, is not only premature but divisive. As a national organiser of our party, we wish to remind him of his role as a leader and must remain as neutral as possible till the party elects a new leader at congress, at a later date to be determined by the same body of which he is part.

"We also call on the National Chairman, his team and the National Council of Elders to issue a statement calling on Mr Kofi Adams, as a matter of urgency, to desist from such utterances, as his current posture is a threat to the rebuilding process and a strong NDC for 2020."