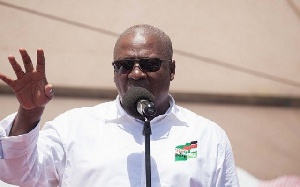 Former president John Dramani Mahama has urged all newly-elected executives of the opposition National Democratic Congress (NDC) to unite in order to "win massively" in the 2020 elections.
According to him, the party needs the support of every executive if it is to return to power in 2020.

While congratulating the new executives on Sunday, Mahama said their election should mark the beginning of hard work to ensure unity ahead of 2020 polls. "The real work has just begun and we must all put our shoulders to the wheel going forward," Mahama said in a statement on Facebook.

Mahama was reacting after the NDC held its regional executive elections last saturday in all ten regions across the country to elect new executives.

He congratulated all newly-elected executives, but was quick to add that the support and contributions of unsuccessful constituency aspirants are also still very much needed.

Mr Mahama, who lost the 2016 general elections as incumbent President, appears to be interested in leading the NDC as flag-bearer again into the next polls. He has due to that,receive a high number of support from NDC MPs in Parliament.

READ THE FULL STATEMENT BELOW:
I have spoken to our newly elected Regional Chairmen and asked them to pass on my congratulatory wishes to all who won positions in the Regional Executive elections.

I have also called and expressed my personal message of encouragement to many of the candidates who were not successful in the elections.

As I have always said, there are no losers in this contest. Our great party, the NDC, is the winner. It is time for the new executives to reach out and bring every one on board for victory in election 2020.

The real work has just begun and we must all put our shoulders to the wheel going forward.

I look forward to meeting you all when I begin visiting the constituencies and regions in the coming weeks.