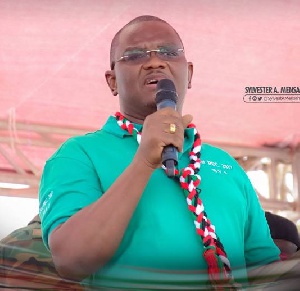 Aspirant in the National Democratic Congress (NDC) flagbearership race and former National Health Insurance Scheme boss, Sylvester Mensah has urged members of the NDC to shun violence so as to ensure a peaceful constituency election.
In a Facebook post on Thursday, 21st June 2018, he established that issues surrounding the party's elections scheduled for the weekend has been alarming following attacks by some group of persons to ruin the voting process.

He also said some constituency conferences have been suspended to that effect.

"I call on all stakeholders to ensure that the elections are conducted in a democratic, civil, peaceful, fair and transparent manner. Unfortunately there have been complaints and reports about how some groups of persons are seeking to vitiate the process in order to subvert the interest of the larger party and for parochial interests. This has led to the suspension of some constituency conferences. It is however assuring to see that party leadership at the national level working to address these avoidable occurrences". The post read.

In relation to that, the NDC flagbearer hopeful has asked members of the party to remain calm as necessary arrangements has been put in place to ensure a smooth and peaceful conference.

He further expressed hope that members of the National Democratic Congress (NDC) would comport themselves and adhere to the laid down rules in the interest of the party.
''It is however assuring to see that party leadership at the national level working to address these avoidable occurrences. We call on all stakeholders to ensure a level-playing field for all aspirants to make the process credible and acceptable by all''. He wrote

The National Democratic Congress (NDC) will hold its constituency elections on June 23, 2018 to elect officers to steer the affairs of the party for the next four years.

The position of Chairman, Vice Chairman, Secretary, Deputy Secretary, Treasurer, Constituency Organizer, Deputy Constituency Organizer, Communication Officer, Deputy Communication Officer, Zongo Caucus Coordinator will be contested for at the constituency conference.

Read his full post below