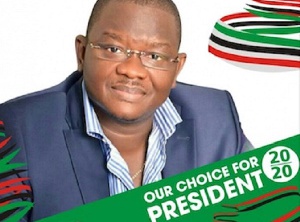 The former Chief Executive Officer (CEO) of the National Health Insurance Authority (NHIA), Sylvester Mensah is calling for critical reforms in the constitution of the opposition National Democratic Congress (NDC), which would enhance the fortunes of the party as well as give clarity to key provisions therein.
He admonished the party to take a conscious relook into the constitution and redefine the roles of the council of elders, the leader of the party when the party is in government and that of the founder of the party, Jerry John Rawlings.

Speaking on the Gold Power Drive with host Samuel Eshun, Sylvester Mensah said one critical area in the party's constitution which should be given clarity is the Council of Elders of the party in such a way that would make them relevant all year round, rather than the status quo where they come in when there seemed to be crises.

"There is the need to have a detailed stipulation of the role of the council of elders in a way that would make them useful and important at all times, and to also provide mandatory meetings of the council of elders of the party," he suggested.

He added that it was also important to redefine the role of the leader of the party.

According to the former NHIA boss who desires to lead the NDC in the 2016 presidential elections, though the constitution of the party enshrines the president of the republic to be the leader when the party is in power, there is the need to review it.
He indicated that the role of the leader must be spelt out "because within the context of management, leadership is everything."

"The performance of the National Executive Committee hinges on the leader, whoever way it goes, whether they are performing or not performing is the function of leadership," he said.

He also noted that if the party wishes to maintain the status quo then there was the need to clearly define it in such a way that it would be unambiguous to allow the leader to take its rightful role in ensuring performance alongside government.

He suggested that if the party wished to divorce itself from government as practiced in other jurisdictions then perhaps there was the need to relook at that in the context of the party's constitution.

Sylvester Mensah further urged the party to give unambiguous clarity on the role of the founder in the party in the way that he plays his respective role in the proper structure of the party.