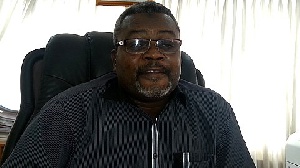 Thu, 25 Aug 2016 Source: The New Crusading Guide
There is seeming tension going on between the standard bearer of the People's National Convention (PNC), Dr. Edward Nasigri Mahama and the party's incumbent Member of Parliament (MP) for Builsa-South Constituency in the Upper East Region, Hon. Alhassan Azong, this paper can report.
The ensued misunderstanding, this paper understands was as result of alleged four (4) pick-up vehicles which were allegedly gifted to the party by Dr Mahamudu Bawumia, the running mate of the New Patriotic Party's flag-bearer, Nana Addo Dankwa Akuffo-Addo.

The vehicles, according to this paper's investigations, were to help the PNC in its 2016 campaign ahead of the December 7polls.

But according to sources close to Dr. Edward Mahama, Hon. Azong who is also a Minister of State at the presidency is reportedly keeping the cars without informing party executives.

"My brother (referring to this reporter), I can say without fear of contradiction that one of us (referring to Hon. Azong) went for the cars which were supposed to help the party in its campaign", Dr. Mahama was said to have told a confidante in a telephone conversation.
When asked why the NPP's vice presidential nominee would give the PNC vehicles, all that our source said was "in politics everything is possible and one must be smart".

Our checks at the PNC party headquarters indicated that, whiles some party national executives are in bed with the ruling government, others are also with the opposition NPP.

Meanwhile the office of Mr Azong has since denied the allegations.

Speaking on condition of anonymity, the source expressed surprise at the comments purported to have been made by the party's flag-bearer.
Source: The New Crusading Guide